FREE U.S. SHIPPING
ENDS
MAY 31
MEMORIAL DAY SALE
20% OFF SITEWIDE
Customer Reviews
Write a Review
Ask a Question
Bought the bottle as a gift. He loves it. Definitely recommend. Definitely a good dupe for other 40 oz water bottles. My only grievances are that I was under the impression that I was getting a red silicone boot with my purchase... and that I ordered it on Oct 30, 2021, but due to shipping issues with the ports it didn't ship until Dec 8, 2021.
Literally my new favorite water bottle! I love how it came with anything. Very rugged. Definitely my emotional support water bottle ****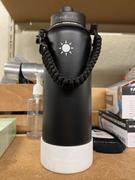 I bought me the 40 oz sports bottles for work and it is amazing. I never have to worry about my water getting hot all day.